Keep on Moving!
1 According to the laws of physics, all objects in nature are in constant motion. This also applies to the human body. Genes, the environment, and lifestyle lead to changes in cells. Your muscles grow old and lose their mass and strength, and the joints become less flexible. These cellular changes also limit the activity of the heart muscle. As a result, any work becomes more tiring.
So, how can one have more energy after 60? To counteract age changes, doctors recommend 150 minutes per week (that is two and a half hours) of aerobic activity:
Regularly perform stretching exercises to maintain muscle mass. Yoga classes will be suitable. However, always remember – this is not a competition. Do not harm yourself by trying to beat the record.
If you haven't done any sports for a long time, first visit your doctor or a physiotherapist to recommend something that suits you. Determine the load of the classes you should take.
Wondering How You Can Get Positive Energy?
1. Be aware of your negative thoughts and emotions
Barbara Fredrickson, a positive psychology researcher at the University of North Carolina, in her landmark paper, provides surprising insights into what negative thoughts and emotions do to your brain.
Negative emotions and thoughts narrow your brain and focus your thoughts.
But the truth is, your mind is programmed to respond to negative emotions in the same way. So every time you feel fearful, you automatically shut yourself off from the outside world and limit your options.
2. Avoid speaking of your problems, diseases, illnesses, or worries
3. Meditate
In this research, Fredrickson and her colleagues revealed that people who meditate daily experience display more positive emotions than those who do not. On top of that, people who meditated also built valuable long-term skills. For example, three months after the experiment was over, the people who meditated daily continued to display increased mindfulness, purpose in life, social support, and decreased illness symptoms.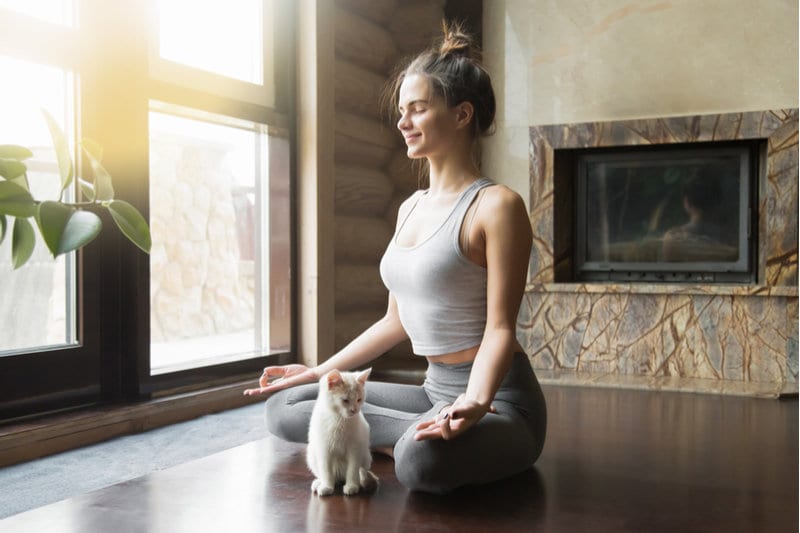 They are impermanent. They occur and they dissipate out of your control. So as you practice meditation, what you are practicing is dissociating yourself with your thoughts and emotions, with any construct that you perceive as self. It's called a transpersonal consciousness that allows you to dwell on the positive energy of love, compassion, joy, peace, and unity.
Meditation practice helps you cultivate presence at the moment. When you withdraw yourself from the outside world, you tap into the essence of the present moment. And being fully in the present moment, you tap into higher consciousness devoid of fear and anxiety.
4. Avoid gossip
At the core of it, gossip is about criticizing and judging others. Remember that everything is energy, so when you place your focus on judging others, you project negative energy, that will get back to you.
5. Avoid falling asleep with the TV on
When you are asleep, your mind goes into delta brainwave frequency. Delta waves are the slowest of all. It's the direct access to your subconscious. And it's the ideal choice for deep and powerful reprogramming.
6. Start journaling the moments of gratitude every day
This study, published in the Journal of Research in Personality, examined a group of 90 undergraduate students who were split into two groups. The first group wrote about an intensely positive experience each day for three consecutive days. The second group wrote about a control topic.
Three months later, the students who wrote about positive experiences had better mood levels, fewer visits to the health center, and experienced fewer illnesses.
Gratitude is one of the highest vibrational emotions that you can experience.
And when you journal your moment of gratitude every day, you instantly raise your vibration by simply thinking about those positive experiences. Remember, that your subconscious mind doesn't make a difference between actual reality and imaginary. What you imagine is as real as what you perceive with your 5 senses. So thinking about positive moments has the same effect as actual experience.
7. Visualize the best scenarios
8. Let go of the past
Learn from your mistakes, learn from others' mistakes, remember that no unkind or thoughtless action ever comes from love but from a place of deep inner pain (you can be compassionate to that pain without condoning the acting out of it) and release the energetic burden you carry: grudges, resentments, pain, hurt, disappointments, sadness, anger, guilt.
9. Laugh! Smile!
10. Sweat it off
And in the middle of a long bike ride, walk or swim… or in the middle of the climbing wall, you may suddenly have an epiphany. Or, at least for a while, you will be fully present and not worried about the future.
Recommended Free Masterclass For You
Discover 4 Powerful, Practical Ways to Bring Energy Medicine Into Your Everyday Life
You know that everything is energy. But how do you apply this to your life? Join this free Masterclass for an eye-opening demonstration where you'll witness firsthand how energy actually runs our reality and walk away with at least four different energy medicine techniques.Reserve My Free Spot Now
40 Genius Ways to Have More Energy After 40
Shutterstock
Most people living in the modern world are after more energy. We work too hard, make more commitments than we can handle, and—at least for most people—getting enough sleep is a laughably unrealistic dream. Add aging to the mix, and we're done for.
But even post-40, there are plenty of strategies you can use up your drive for both work and play. From mental tricks to key nutrients to add to your diet to scheduling smarter, here's how to boost your energy so you can make your 40s your best decade yet. And if you find yourself in need of an energy boost right this second, try one of these 50 Ways To Be a Higher-Energy Person Immediately.
The urge to do everything and take advantage of all opportunities may be strong, but the reality is that when you're in your 40s, you can't constantly bounce from one thing to the next without taking a break. Schedule in rest time in between social and family obligations, and you'll find yourself feeling more excited about everything on your plate rather than overwhelmed and run down.
Shutterstock
File this under: Weird energy tricks that actually work. According to a study in Psychophysiology, thinking about a romantic partner can boost blood glucose and "eustress" (aka the good kind of stress) levels, which provides a boost of energy over time. Whether you've been with your partner for ages or are seeing someone new, it looks like thinking about them often could work wonders for your perkiness. And if you don't have a partner yet, be sure you know The Secret to Making a Great First Impression.
To feel your best, you need fuel in the tank, which means not leaving long gaps between meals and snacks. Instead of of having just three square meals a day, make sure you're not going longer than four hours without food.
Yes, really. As we age, it becomes more and more tempting to spend time in bed without actually sleeping. This can make it harder for you to get good quality sleep, according to Harvard Health Publishing. Here's the solution they suggest: Don't nap during the day, and start out with just four hours of sleep per night.
For as long as you feel you're getting good quality sleep during the time you're in bed, keep adding 15 to 30 minutes of sleep per night. This method encourages more restful sleep in the long-term, even though it might seem counterintuitive at first. These 70 Tips For Your Best Sleep Ever should lead you in the right direction.
Potassium is a nutrient you don't hear about as often as others, but it's important to your energy levels and overall health, especially as you get older. One of the biggest benefits of the nutrient is improved heart health and lower blood pressure, and being deficient in it can seriously zap your desire to do anything or go anywhere. Adults need around 4,700 milligrams of the stuff per day, which is actually quite a lot. Incorporate foods like avocado, spinach, dried apricots, and sweet potato to ensure you're getting enough of the stuff. These are all some of the 30 Best Foods for Maximizing Your Energy Levels.
Shutterstock
The truth is, when you hit your 40s, there are some physiological reasons you might be feeling low energy, from thyroid imbalances to perimenopause to lower testosterone levels. If you're feeling low on fuel all the time, it's worth checking in with your doctor about what's going on; it could be a quick and easy fix. Also, it will help you to know the 10 Secrets for Maximizing Any Doctor's Visit.
You might think essential oils are BS, but some of them are actually research-backed. "Peppermint is that essential oil that you need on the nightstand," says Isaac Jones, DC, a functional nutrition expert and chiropractor. "Whether you were out too late with friends or you were up rocking a teething baby, peppermint will do the trick when you need to wake up and get going. It will also boost your performance throughout the day. A study in the Journal of Phytomedicine showed significant improvement in athletic performance when subjects were given peppermint oil."
Resource:
https://myallamericancare.com/blog/2020/02/24/energy-boost-for-elderly-people-7-ways-to-maintain-energy/
https://blog.mindvalley.com/positive-energy/
https://bestlifeonline.com/ways-to-have-more-energy-after-forty/